---
In short
The semiconductor market saw its first market growth since 2021 amid continued trade tensions, slow economic growth, and chip shortages. IoT continues to gain importance.
10 trends from the IoT Chipset and IoT Module Trends Report 2023 showcase IoT adopter demands and how semiconductor OEMs/ODMs are addressing them.
Why it matters
For IoT vendors: In a highly dynamic market, IoT chip companies must stay on top of their game to continue to be cutting edge (e.g., to enable smaller, more efficient, and more powerful IoT devices).
For IoT device/equipment makers: IoT chip innovations lead not only to new market opportunities (e.g., with AI, new connectivity, and more power-efficiency) but also to new challenges that need to be mitigated (e.g., heat dissipation).
---
IoT semiconductor technology is advancing amid a complicated semiconductor market environment
Despite continued trade tensions, slow economic growth, and chip shortages, the semiconductor market saw subtle signs of recovery from Q1'23 to Q2'23. Q2'23 was the first positive change since Q4'21—6.7% market growth quarter-over-quarter.
A number of general trends are currently driving the market back up, including:
The growing demand for AI chipsets
The need for greater, even global, IoT connectivity that is modular and scalable
The desire to move data analysis and storage closer to the edge
The drive for smaller chip design with efficient cooling
Amid this complicated market, the IoT revenue share for major semiconductor companies has generally increased in recent years and, for many large chip companies, is now bigger than 10%, in some cases even bigger than 20% of their revenue. The latest IoT Analytics' IoT Chipset and IoT Module Trends Report 2023 report provides numerous examples of individual IoT trends that can be observed in the current market environment. While we cannot capture all of them in one article, we will showcase 10 of the 54 IoT semiconductor trends from the report here, along with a selection of examples for each.
Download a sample to learn more about the report, its structure, methodology and additional data points.
Already a subscriber?
Browse your reports here →
1. Usage of chiplet-based architectures for IoT devices
Semiconductor chip OEMs/ODMs are adopting chiplet-based architectures. Chiplets are a design concept that enables multiple chips with different process node sizes to be used in a single package. This design allows for rapid prototyping and a shorter time to market, all with reduced production costs. Chiplets are ideal for IoT devices with varying complexity, from disposable RFID tags to advanced driver assistance systems integrating sensors, AI chips, processing, memory, and connectivity.
Example:
In November 2022, AMD unveiled the Radeon RX 7900 XTX and Radeon RX 7900 XT graphics cards. These cutting-edge cards utilize AMD's next-gen RDNA 3 architecture, featuring a chiplet design that combines 5nm and 6nm process nodes with up to 54% more performance per watt and 2.7x higher AI performance than RDNA 2.
2. Increasing adoption of RISC-V in IoT chip design
Many IoT device companies are turning to the open standard instruction set architecture RISC-V when designing chips. RISC-V is energy efficient and customizable, and it is known to be secure due to its transparent, open-source nature, and ISA conformity. Its modular design allows for efficient resource utilization, which can be cost-effective for different IoT deployments.
Example:
On 4 August 2023, a group of major semiconductor industry players, including Robert Bosch GmbH, Infineon Technologies AG, Nordic Semiconductor, NXP Semiconductors, and Qualcomm Technologies, Inc., joined forces to invest in a new company aimed at promoting the adoption of RISC-V architecture. The intent is to speed up the development and commercialization of innovative products based on RISC-V, and it will serve as a single source for RISC-V-based products, reference architectures, and solutions that can be used in the semiconductor industry.
3. Incorporation of cooling techniques in chip/PCB design for smaller node chips
There is a general trend of reducing the size of chips, aiming toward form factors as small as 3nm and 2nm, and this trend is expected to drive IoT and general AI chip development. With this trend comes three distinct issues:
Increased power density: Smaller, advanced chips have higher power density and generate more heat due to increased circuitry in a smaller area.
Reduced surface area for heat dissipation: Smaller form factors generally mean less surface area is available for heat dissipation, making it more challenging to dissipate heat efficiently.
Thermal resistance: Smaller form factors can also result in higher thermal resistance within the chip itself. As the chip shrinks, there is less space for heat to spread and dissipate, leading to increased thermal resistance.
To mitigate these challenges, semiconductor companies are developing and employing several cooling technologies to manage and help dissipate heat generation during operation, including the following: heat sinks, fans and blowers, liquid cooling, vapor chambers, phase change cooling, and thermoelectric cooling.
Example:
In its iEP-5000G Series of industrial IoT controllers, Asrock utilizes copper heat pipes to solve the heat dissipation issue. A heat pipe is a tubular device embedded beneath the PCB, circulated all around the PCB areas where the temperature rises beyond the required limit. Asrock includes both heat fins on the casing and internal heat pipes of the iEP-5000G.
4. IoT processor innovation is focusing on an energy-efficient future
As processors advance in their performance, connectivity, and compactness, so too has the demand for energy efficiency. Due to this demand, ultra-low-power MCU-based SoCs are on the rise. Companies are leveraging innovative power-saving methods to extend battery life and optimize performance.
Examples:
In March 2023, STMicroelectronics announced STM32WBA52, combining Bluetooth LE (BLE) 5.3 connectivity with ultra-low-power modes, ARM PSA-certified level 3 and SESIP3 security, and a broad selection of peripherals for developers. It is boosted by an ARM Cortex-M33 core operating at 100 MHz for extra computing power. STM32WBA52 MCUs feature ST's low-power DMA and flexible power-saving states with fast wake-up times. According to STMicroelectronics' announcement, these features can cut MCU power by up to 90%.
Also in March 2023, Onsemi introduced the NCV-RSL15, an automotive-grade wireless microcontroller. One notable achievement of the NCV-RSL15 is its certification by the EEMBC as the industry's lowest power-secure wireless microcontroller. To minimize power consumption, the NCV-RSL15 incorporates a proprietary smart sense power mode and can operate at as low as 36 nA. This microcontroller stands out due to its BLE connectivity, specifically tailored for various applications such as smart vehicle access, tire pressure monitoring systems (or TPMS), and seat belt detection.
5. Enhanced cellular and satellite connectivity for streamlined operations and global coverage
5G Reduced Capability (RedCap), or 5G NR-Light, was introduced in 3GPP Release 17 as a new specification for IoT use cases requiring mid-tier IoT connectivity. 5G RedCap is an enhancement of current 5G technology, not a lighter version of 5G. It offers a balance of throughput, battery life, complexity, and IoT device density.
Currently, mid-tier IoT devices rely on LTE Cat-4 for wide-area wireless connectivity and mobility. 5G RedCap will be directly competing with LTE Cat-4 for such mid-tier cases, as it operates on a similar bandwidth of 20 MHz and offers similar throughputs of 150 and 50 Mbps in the downlink and uplink, respectively. LTE Cat-4, being a previous generation of technology, will have a relatively shorter life span for network support, while 5G RedCap, being the next generation technology, will have a longer life span.
Further, the IoT device market is witnessing the emergence of advanced connectivity solutions that combine satellite and cellular technologies, paving the way for global coverage and connectivity for IoT applications. These applications can transcend the limitations of terrestrial networks and expand the reach of IoT devices globally.
Examples:
In March 2023, Fibocom announced the global launch of the new RedCap module series FG132-NA. These modules offer improved energy efficiency, expanded IoT scenario diversity, and support both 5G SA and backward compatibility with LTE Cat 4 networks. With up to 220 Mbps downlink speed and 100 Mbps uplink speed, they ensure reliable network performance for various applications such as manufacturing factories, IPC, and smart grids.
Additionally, Fibocom announced the non-terrestrial networks module MA510-GL (NTN) at MWC Shanghai 2023 in July 2023. This module, powered by the Qualcomm 9205S modem and 3GPP Release 17 compliant, is designed to meet the needs of the global IoT market and enables the use of highly resilient GEO satellite communication and cellular connectivity.
6. Rising integration of AI chipsets in edge devices
The demand for real-time data analytics and data privacy is rapidly growing as businesses continually look for ways to make better decisions faster and securely. This demand has driven development of new edge devices with powerful chipsets enabling AI applications to run locally without having to send data to the cloud. Localized AI processing reduces latency, enabling rapid decision-making, and secures data since it is not transmitted outside of the premises.
Example:
At Hannover Messe 2023, Advantech showcased three industrial AI platforms, each based on different Nvidia GPUs:
MIC-733-AO, based on Nvidia Jetson AGX Orin
MIC-711-OX, based on Nvidia Jetson Orin NX
MIC-711-OA, based on Nvidia Jetson Orin Nano
The GPUs have different performance levels, with the Jetson AGX Orin being the most powerful and the Jetson Orin Nano being entry level. Nvidia Jetson AGX Orin SoM is based on the Ampere architecture GPU and ARM Cortex-A78AE CPU. Jetson AGX Orin 64GB has 2048 CUDA cores and 64 tensor cores with up to 170 Sparse TOPs of INT8 Tensor compute and up to 5.3 FP32 TFLOPs of CUDA compute. NVIDIA Jetson Orin modules offer up to 275 trillion operations per second (TOPS) and 8x improvement in the performance compared to last generation GPUs for multiple concurrent AI inference pipelines.
7. Increasing processing power in local industrial hardware solutions
Several industrial automation vendors recently upgraded their hardware, such as IPCs, with faster chipsets and functionalities. These upgrades enable industrial hardware to store and analyze data locally, and IPCs with multicore support can software-based PLCs. Examples of new chip technology in 2023 include Intel's i9 processors (Raptor Lake) and Nvidia's Jetson AGX.
Driving this move are four customer needs factors:
Moving some software applications from the cloud to the edge
Faster data processing and analysis
Handling multiple connections and translating multiple protocols as companies retrofit older assets that use varying protocols
More control over the data collected from company sensor networks, along with storage and retrieval of the data on-premises
Example:
In November 2022, Beckhoff announced a new addition to its C60XX family of IPCs, C6040, which came with several new features. The device is based on Intel's new Raptor Lake technology, which allows for better caching—thus, much better real-time functionality. Soon after, in March 2023, Beckhoff highlighted its further-enhanced C6043 IPC, which includes Nvidia's RTX A4500 GPU for AI acceleration.
8. Adoption of Raspberry Pis and Arduinos-based chipsets in IoT gateways
Aligning with the trend of more processing power in local industrial hardware solutions, IoT gateway manufacturers are adopting Raspberry Pis and Arduino-based systems into their devices. Originally used for prototyping, these devices have found their way into marketed industrial IoT gateway solutions due to their affordability, availability, and large community support (largely made up of developers and enthusiasts). Further, these systems offer various connectivity options, like WiFi, ethernet, and Bluetooth, which are essential for IoT gateways.
Example:
In January 2023, Artila Electronic announced Matrix-310, an Espressif ESP32-based industrial IoT gateway using the Xtensa dual-core 32-bit LX6 processor, providing up to 240 MHz of frequency. Users can use the Arduino IDE to program and develop applications for the Matric-310 by installing the ESP32 Arduino core via Arduino's board manager. Arduino IDE supports FreeRTOS, an open-source real-time operating system, which can be used to manage multiple tasks on an ESP32 board.
9. Increasing use of RAN accelerators is driving adoption of Open RAN/vRAN architectures for cellular communications infrastructure
As communications service providers continue to roll out 5G globally—and look at the future roll out of 6G technology around 2030—they are gaining interest in open, flexible, virtual, and programmable radio access network (RAN) infrastructure for better performance, scalability, and cost savings. Helping to drive RAN performance are RAN accelerators, which are customized hardware components or software modules designed to enhance RAN performance. They can be based on FPGAs, GPUs, or ASICS, and they are used to offload processing tasks from general-purpose processors in the system.
Notable architectures to support RAN acceleration are Open RAN and virtualized RAN (vRAN):
Open RAN is an architecture that promotes the use of open interfaces and standards that enable a more modular and flexible network infrastructure, where components from different vendors can work seamlessly together.
vRAN is an architecture that implements network functions using virtualization technology, where various network functions are implemented as software running on general-purpose hardware platforms (like servers) rather than being executed on specialized, often proprietary, equipment.
A telecommunication operator may choose Open RAN to foster network heterogeneity, reduce vendor lock-in, and promote innovation through open interfaces and interoperable network elements. On the other hand, opting for vRAN can help in achieving greater network scalability, flexibility, and cost-efficiency by leveraging virtualization technology to implement RAN functions on general-purpose hardware platforms, potentially making network upgrades and maintenance more straightforward and economical.
Examples:
In February 2022, Dell showcased its Open RAN accelerator cardbased on a Marvell OCTEON CNF10S baseband processor. A year later, Dell also announced its collaboration with various industry leaders to enhance its open infrastructure for RAN environments. ​
In January 2023, Intel launched its newest 4th Gen Intel Xeon scalable processors featuring Intel vRAN Boost, a new chip designed to integrate vRAN acceleration for 5G and 4G directly on the Intel Xeon SoC. The processor has been optimized to improve the performance of packet and signal processing, load balancing, AI and machine learning, and power management implementation. As a result, custom Layer 1 accelerator cards are no longer required. By eliminating the need for an external accelerator card, CSPs can reduce the component requirements of their vRANs. This, in turn, leads to significant compute power savings, simplified solution design, and a reduction in the total cost of ownership for CSPs.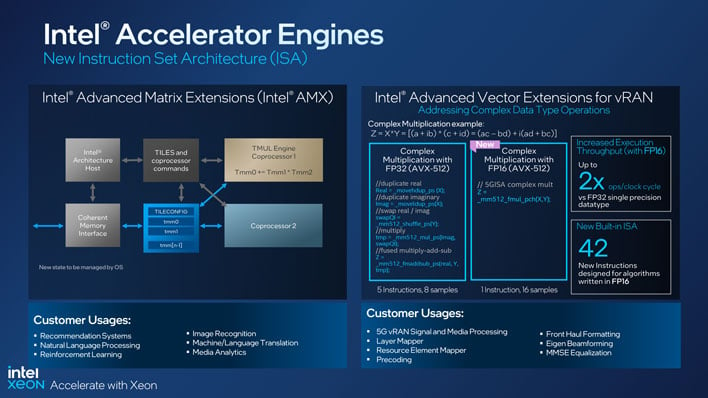 10. Advances in chip-to-cloud security
As the number of connected devices continues to increase, so does the risk of cyberattacks and unauthorized access. IoT chip technology vendors are proactively incorporating security features into their products and adhering to industry-specific regulations and standards. One such set of standards is the IEC 62443 family of OT standards. Products bearing this certification must adhere to specific product development requirements from the early stages of design.
Example:
In March 2023, Eurotech announced that its ReliaGATE 10–14 multi-service IoT edge gateway is IEC 62443 compliant and is tested for component-level security in adherence with the following regulations:
IEC 62443-4-1, which defines the secure product development process
IEC 62443-4-2, which defines technical requirements for embedded devices network components, host components, and software applications
It is also PSA-certified Level 1 with a TPM 2.0 IC embedded on the PCB.
Additionally, as IoT Analytics has previously reported, eSIM and iSIM technologies are on the rise as more vendors are integrating these technologies to secure IoT devices that use cellular connections. These technologies incorporate embedded secure elements, providing advanced security features compared to traditional SIM cards. The embedded secure elements act as a hardware root of trust for asymmetric encryption, ensuring secure end-to-end communication.
What it means for IoT semiconductor companies
5 key questions IoT semiconductor vendors should ask themselves based on the trends found in this report:
Energy efficiency: Are we focusing on enhancing the energy efficiency of our processors, possibly drawing from advancements made by companies like STMicroelectronics and Onsemi and integrating ultra-low-power modes and innovative power-saving methods in our new chip designs?
Artificial intelligence: How are we positioning ourselves in the AI chip market, and what partnerships or acquisitions can fuel our growth in this segment?
RISC-V: How can our company expedite the transition to or incorporation of RISC-V architecture in our IoT chip designs to gain a competitive advantage?
Heat dissipation: As chip technologies move to 3nm and 2nm nodes, how are semiconductor companies planning to help customers address the thermal challenges associated with higher power density and reduced surface area for heat dissipation?
Chiplet architecture: Are we exploring the potential benefits of chiplet-based architectures for our customers' IoT products, and how can we leverage it to reduce our production costs and time-to-market?
What it means for IoT semiconductor device/equipment makers
5 key questions IoT semiconductor device/equipment makers should ask themselves based on the trends found in this report:
New connectivity: Are we exploring opportunities in LTE Cat 1 bis and satellite connectivity to enhance the global coverage and connectivity of our IoT devices?
Heat dissipation: How are we optimizing our PCB designs to incorporate efficient heat dissipation methods?
Energy efficiency: How can the energy-efficient features in newly announced chips, such as STM32WBA52 and NCV-RSL15, be leveraged to enhance the performance and battery life of IoT devices?
Edge computing: How can we take advantage of faster chipsets to enhance data processing and analysis capabilities at the local level, and what are the potential benefits of moving software applications from the cloud to the edge?
Artificial intelligence: What AI capabilities do we need to add to our IoT devices to satisfy future customer demands related to AI inference at the edge?
More information and further reading
Are you interested in learning more about the IoT semiconductor market?
IoT Chipset & IoT Module Trends Report 2023
The 158-page report offers a detailed examination of the most recent advancements in the field of IoT chipsets and IoT connectivity modules. It discusses 54 trends, including global semiconductor mega trends, and more.
Already a subscriber?
Browse your reports here →
Related dashboard and trackers
You may also be interested in the following dashboards and trackers:
Related publications
You may also be interested in the following reports:
Related articles
You may also be interested in the following articles:
Subscribe to our newsletter and follow us on LinkedIn and Twitter to stay up-to-date on the latest trends shaping the IoT markets. For complete enterprise IoT coverage with access to all of IoT Analytics' paid content & reports including dedicated analyst time check out Enterprise subscription.